The long years of war disrupted the lives of Americans in ways both large and small. The demands of war forced all Americans to take on new roles, to do things they'd never before imagined. But in the American experience of war, gender mattered. Gender determined what would be asked of individuals. Gender determined how their actions would be judged. In the end, the war reinforced longstanding divisions between men and women and fostered new ones, creating a gulf in both expectation and experience.
Different Expectations, Different Experiences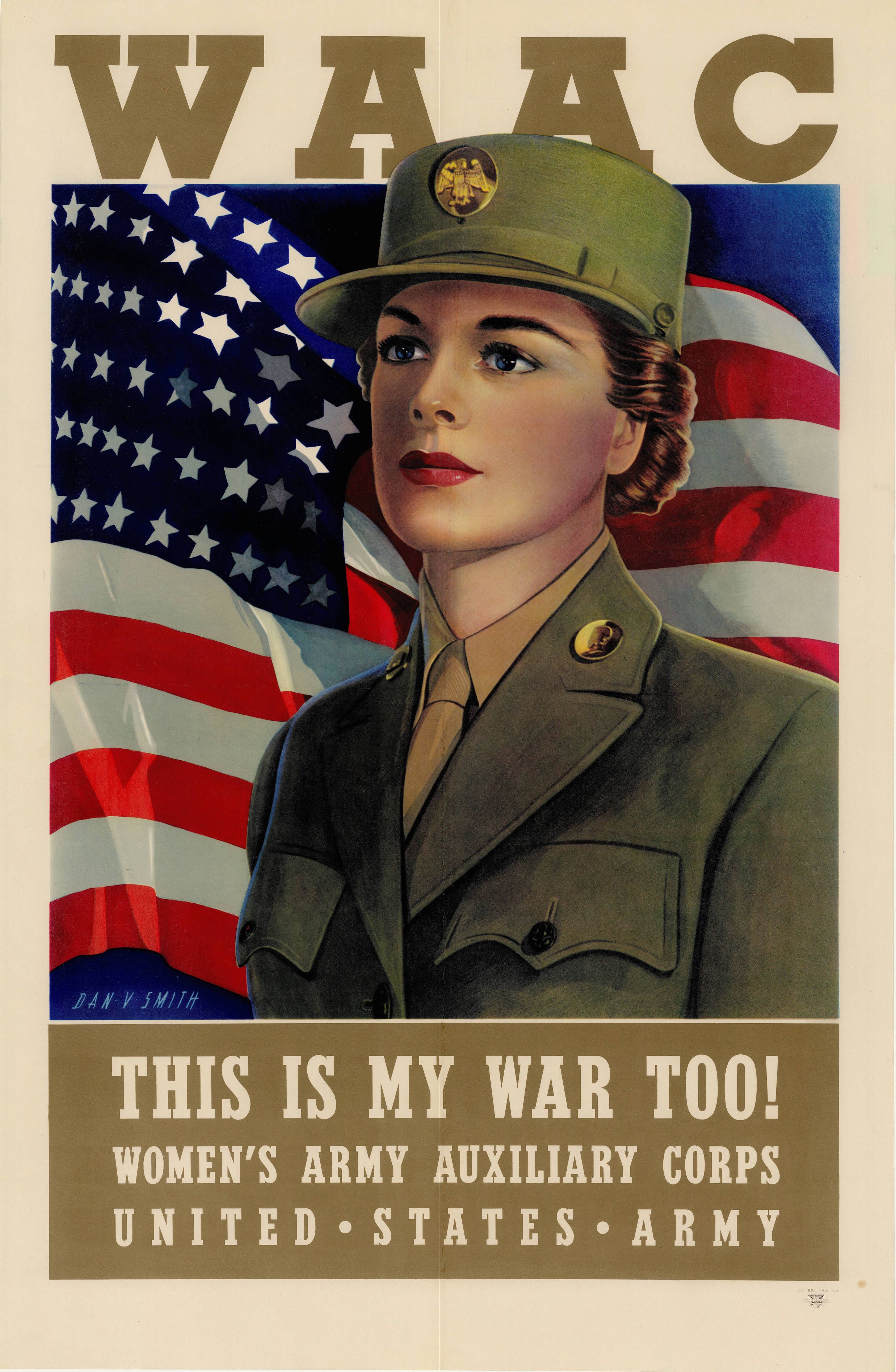 "WAAC—This is My War Too!" A Women's Army Auxiliary Corps soldier in uniform stands in front of an American flag. The WAAC became the Women's Army Corps in mid-1943. P-53-RPB-1-9-43-50M. Courtesy of Hennepin County Library Digital Collections, ID MPW00734.
In the most extreme example: Men fought, women didn't. Of course, not all men faced enemy fire. Of the approximately 16 million men who served in uniform during World War II, fewer than a million saw extended combat. But women—all women—were officially prohibited from even proximity to combat. Official regulations, of course, don't always prevail in time of war. Sixty-seven army nurses were captured by the Japanese and held for three years as prisoners of war. Nurses often served not far behind the front lines. The thousands of members of the Women's Army Corps (WAC) who were sent to the European and Pacific theaters often served in difficult and dangerous conditions. Nonetheless, statistics on combat deaths drive home the difference in men's and women's experiences: of the 292,000 members of the US military who were killed by enemy fire, only sixteen were female. Women made up only .1 percent of the military's 405,000 war-related deaths.
In addition, men—unlike women—were expected to serve in the military, and approximately one-third of men over the age of 15 did. Moreover, men—unlike women—were required to register for the draft. Those who were inducted, most between the ages of 18 and 37, were obliged to serve for the duration of the war plus six months. And even though many didn't even leave the United States, their lives were fundamentally disrupted in ways completely beyond their control. Women, in contrast, were not subject to conscription; all women who served in uniform were volunteers.
Women's Work, Women's Service
These comparisons in no way suggest that women didn't contribute to the US war effort. On the home front, as civilian women replaced the men who'd gone to war, the percentage of women in the workforce jumped by 57 percent. Sixteen percent of all women workers held defense jobs. Women were among the engineers and mathematicians who developed the atomic bombs. Women worked to boost soldiers' morale through the USO; they volunteered for the American Red Cross; they cultivated victory gardens and managed a complex system of rationing points to feed their families. The women left behind wrote millions of V-mail letters to their sons, husbands, boyfriends, and classmates in uniform. And women grieved for loved ones who would never return.
"Youth Power," Army-Navy Screen Magazine, no. 21, 1944
Though the vast majority of American women remained in the civilian world, close to 400,000 women served in (or "with") the US Armed Forces during World War II. WASPs (Women Airforce Service Pilots), though not accorded military status, ferried military combat airplanes around the nation. Sixty thousand women joined the Army Nurse Corps. Another 150,000 enlisted in the Women's Army Corps or its predecessor, the Women's Auxiliary Army Corps. Like the rest of the US military, the WAC was racially segregated, with 10 percent of slots (reflecting the demographics of the nation at the time) allotted to African American women. Many WACs did traditional "women's work" in offices, but others drove trucks, rigged parachutes, or worked as analysts in military intelligence.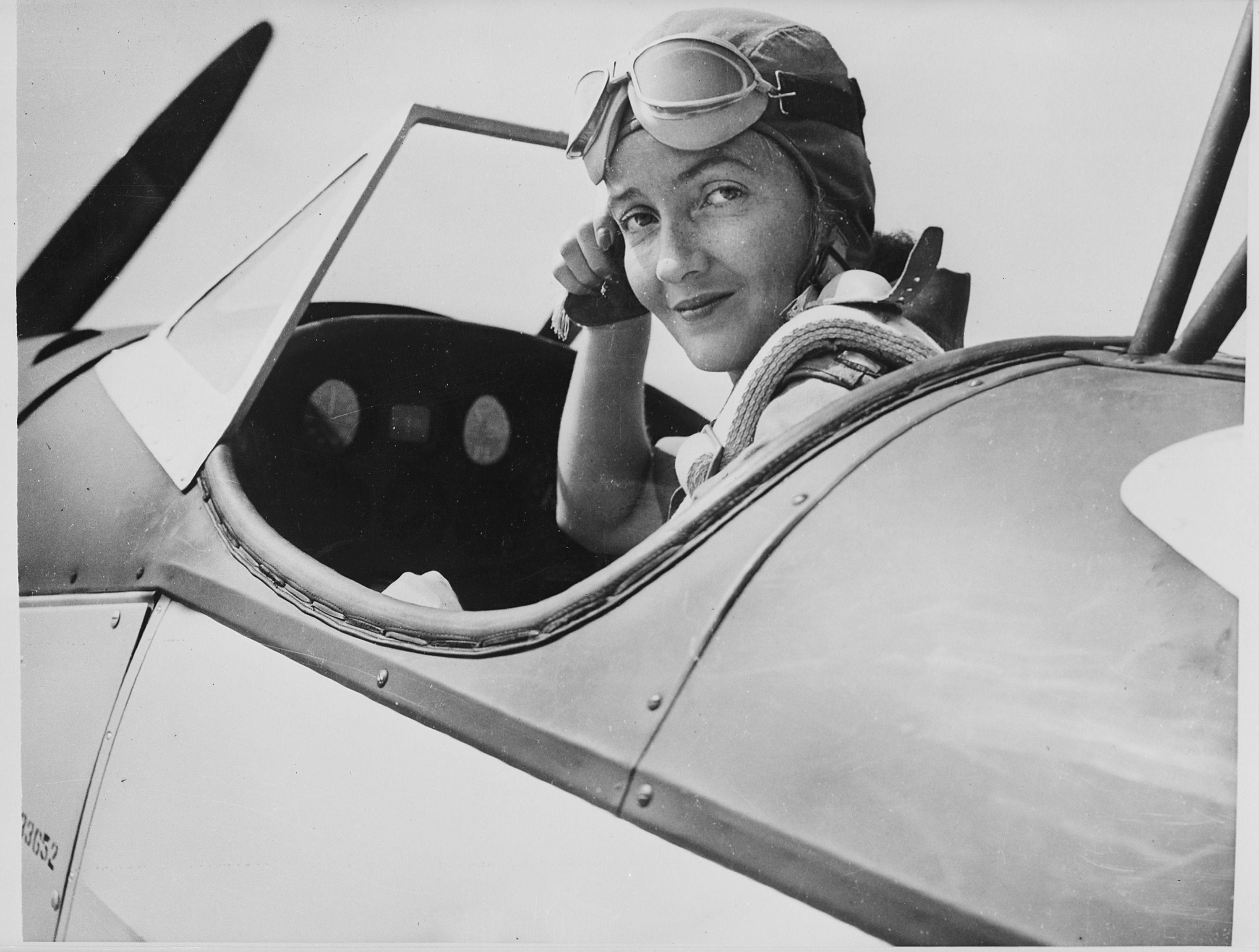 "Mrs. Nancy Harkness Love, 28, director of the U.S. Women's Auxiliary Ferry Squadron, adjusts her helmet in the cockpit of an Army plane before taking off from an eastern United States base. The women under her command will ferry planes from factories to coastal airports, from which they will be flown to overseas battle fronts." Courtesy of NARA, 208-N-4223, NAID 535775.
Military women served honorably and well, but it was a struggle to establish a means for them to do so. Even as the Soviet Union integrated women into army combat units and the British Army conscripted women for war work, including military service, and allowed women to volunteer for anti-aircraft combat units, many in the US Congress opposed efforts to use women's labor in the armed forces. Debating the creation of a Women's Auxiliary Army Corps in early 1942, Representative Butler Black Hare (D, SC) condemned the plan as "a reflection on the courageous manhood of the country." In such corridors of power, assumptions about the proper roles of men and of women shaped decisions about military personnel and, ultimately, gave the wartime state no control over women's actions—even as the nation struggled to enlist a sufficient number of men into the military while simultaneously serving as the world's "arsenal of democracy."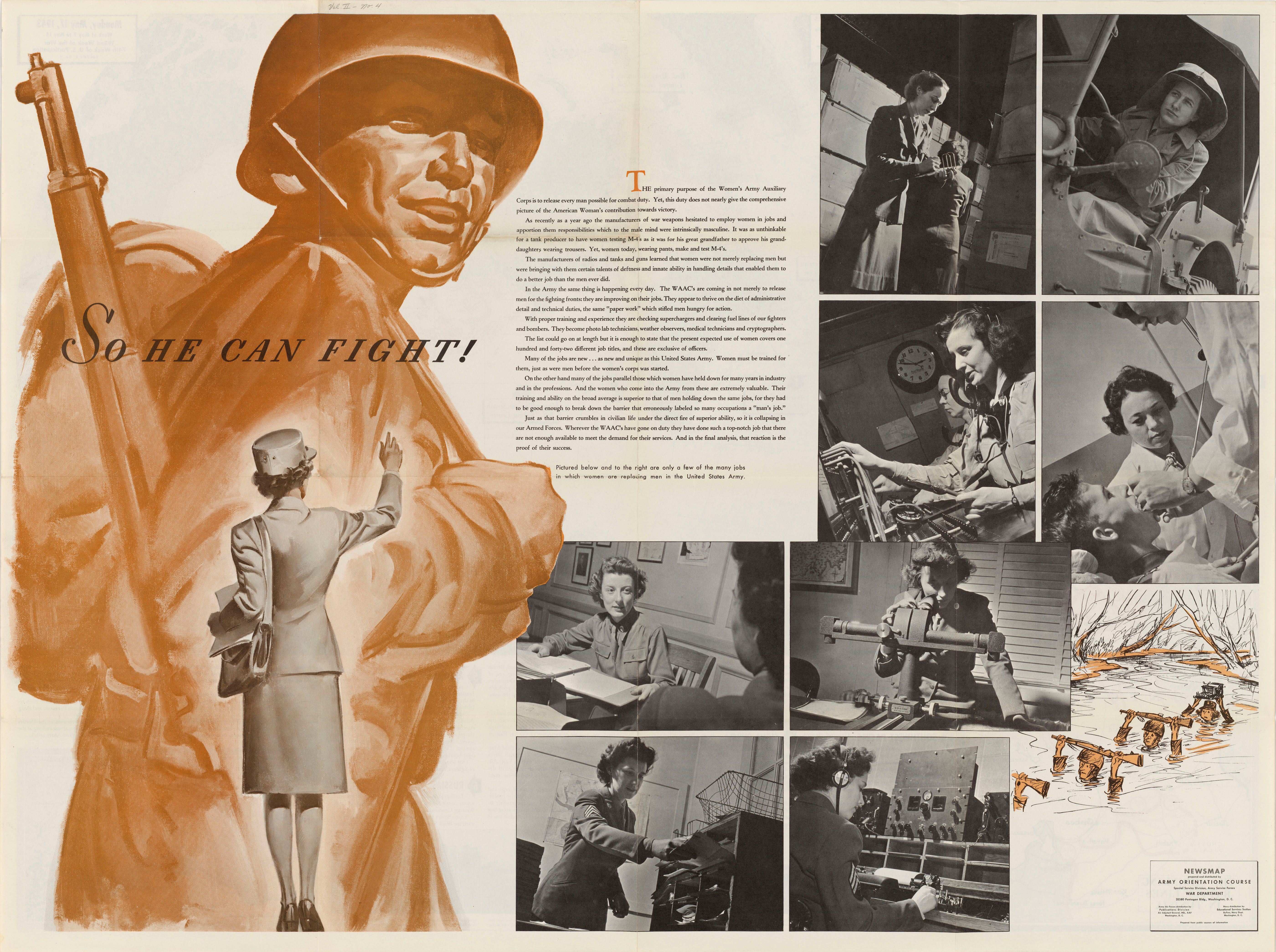 "So He Can Fight!" Newsmap 2, no. 4 (17 May 1943). Courtesy of NARA, 26-NM-2-4b, NAID 66395132.
Resistance to women's service, however, also came from the American public and from male service personnel. Ugly rumors about the sexual morality of WACs began to circulate: 90 percent of WACs had been shown to be prostitutes; the WAC was filled with "Amazons" (a term meant to suggest homosexuality); shiploads of unmarried, pregnant WACs were being sent home from overseas; the purpose of the WAC was to "entertain" army officers, and thus army doctors had been directed to reject any virgin who applied to join the Women's Army Corps.
It's difficult, today, to understand how important women's sexual "reputation" was at that point; even rumors of sex outside marriage or with same-sex partners could threaten a woman's "respectability" and jeopardize her ability to marry or hold a good job. Sadly, investigations found that many of the ugly rumors about WACs originated in military officers' and enlisted men's bars. The secretary of war condemned these "vicious rumors," but General Eisenhower's announcement that the segregated "Negro" WAC unit en route to Britain would "provide companionship for the thousands of Negro troops [there]" suggests how significant such misapprehensions were.
To protect the reputation of the Women's Army Corps and its members, WAC leaders emphasized respectability, did extensive screening of applicants (who met higher qualification standards than did male inductees), and attempted to impose strict regulations on WAC behavior and to control their options for recreation. In the WAC, some women embraced a greater sexual freedom, though none welcomed the rumors of sexual "immorality." But despite the unfair "slander campaigns" waged against them and the hurdles they had to overcome to serve, the great majority of WACs and army nurses saw their work as valuable, a significant contribution to winning the war. General Eisenhower judged the WACs' "contribution in efficiency, skill, and determination" to be "immeasurable," and General MacArthur called them "my best soldiers."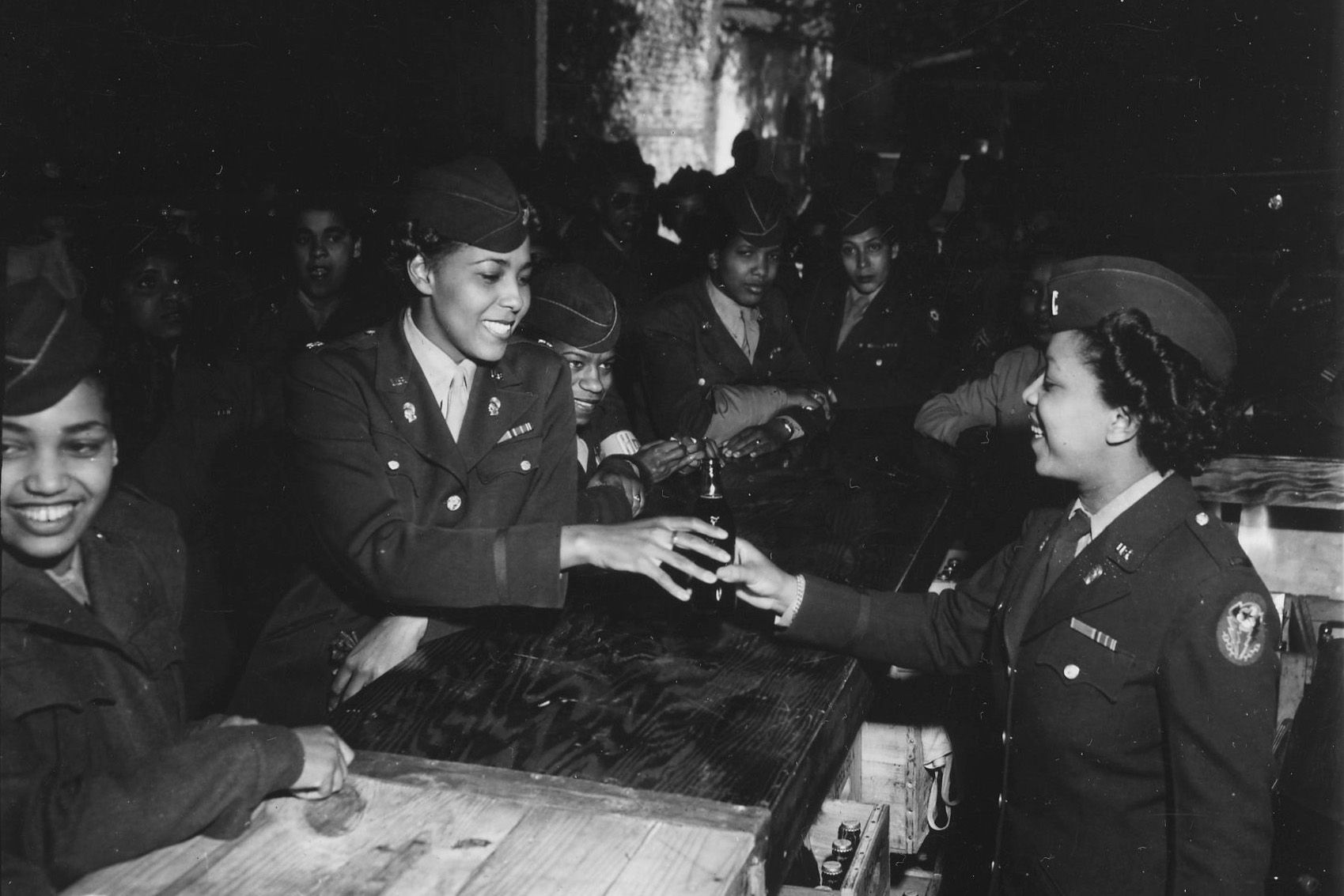 "Right to left: 2nd Lt. Freda le Beau (New Orleans, LA), post exchange officer, serves the first Coca Cola to Major Charity Adams (Columbia, South Carolina), at the grand opening of the WAC battalion's new snack bar. Rouen, France." Original Signal Corps Number: ETO-HQ-45-56457. Photographer: T/5 Klosterman. Courtesy of NARA, 111-SC-209179, NAID 175539159.
For men, military service in World War II created a largely gender-segregated space, and a sense of masculine comradeship emerged from this world without women. As the war dragged on, soldiers' culture grew increasingly coarse, their language so riddled with unconscious profanity that the men worried about how they would eventually navigate Sunday dinner with their mothers. Told that they were fighting for the women back home (and with the WAC recruiting slogan of "Release a Man for Combat"), some men developed a generalized anger at women, or a sense that all American women were obliged to them for their sacrifice. "Dear John" letters from wives or girlfriends seemed an ultimate betrayal. And in the end, as both surveys and diaries reveal, that masculine culture was fundamental. Men fought for their brothers-in-arms. Many described combat as a test of manhood.
In this largely male world, military leaders attempted to manage the problem of sex. Young men, most assumed, would seek sex, and military leaders tried to dissuade men from "illegitimate" sex—whether with prostitutes, with women who "may look clean, but . . . ," or with their fellow soldiers. Sodomy was a crime in the 1940s military (as it remained until 2014), and the Selective Service System conducted psychiatric screening to filter out homosexuals and others with what were, at the time, defined as psychiatric disorders. Nonetheless men had sex with other men, sometimes situationally, when isolated away from women for long stretches of time, and sometimes as part of an emerging, though underground, gay world. While enlisted soldiers were often matter-of-fact about situational homosexuality, men (or women) discovered to have engaged in homosexual acts risked a less-than-honorable discharge.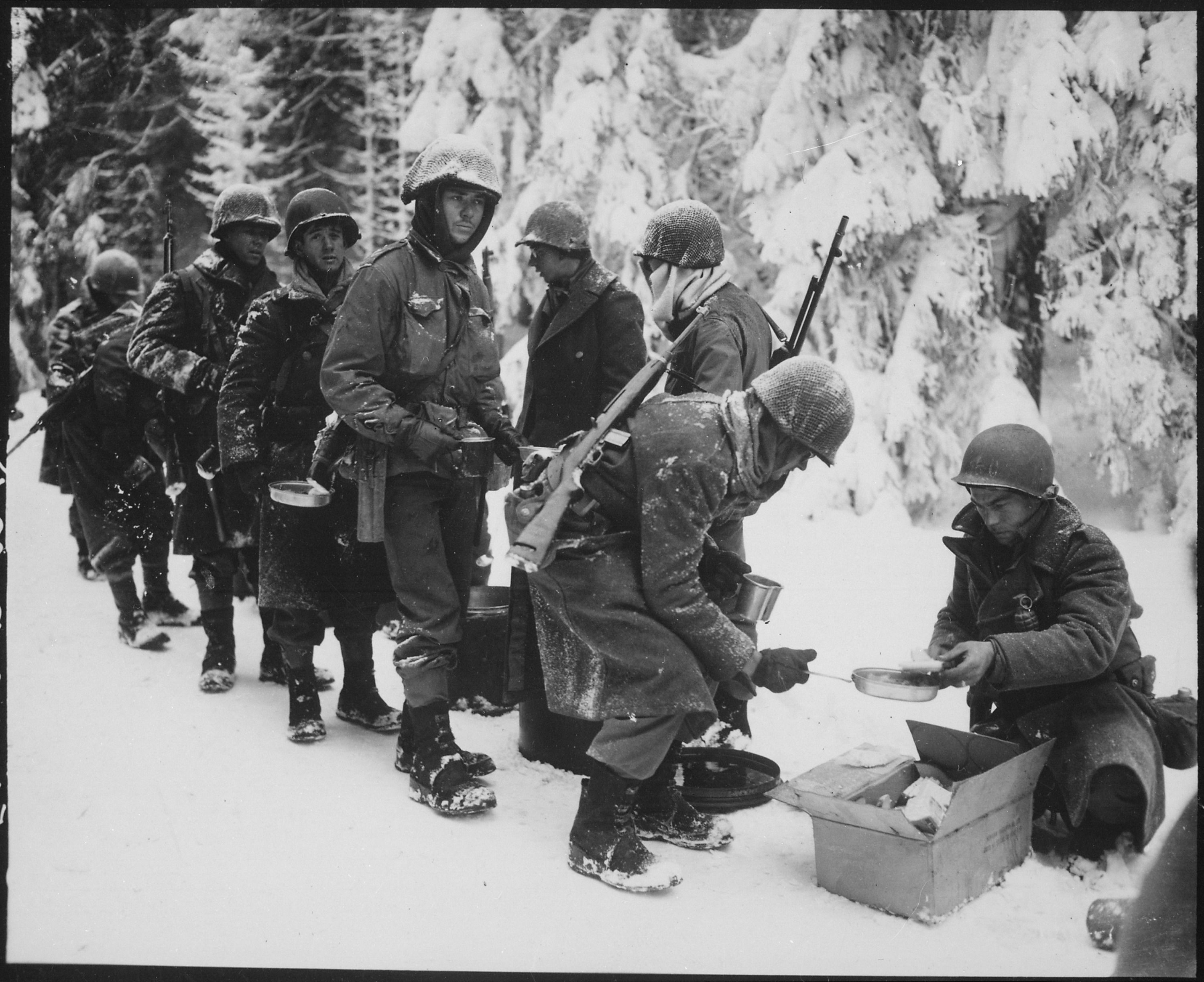 "Chow is served to American Infantrymen on their way to La Roche, Belgium. 347th Infantry Regiment," 13 January 1945. Courtesy of NARA, 111-SC-198849, NAID 531241.
Military officials were particularly worried about preventing venereal disease, which had cost the military millions of man-hours during World War I. "Venereal Diseases Aid the Axis! If Exposed Use Army Prophylaxis," warned pamphlets, and male soldiers received two individual "pro kits," containing ointments meant to combat syphilis and gonorrhea, each week. (A proposal to provide army women with anti-venereal disease education was met with outrage by WAC leaders.) Military physicians and other officers believed that any woman willing to have sex with a soldier outside marriage was a potential source of infection, and posters warned that "Most Promiscuous Women Have Venereal Disease!"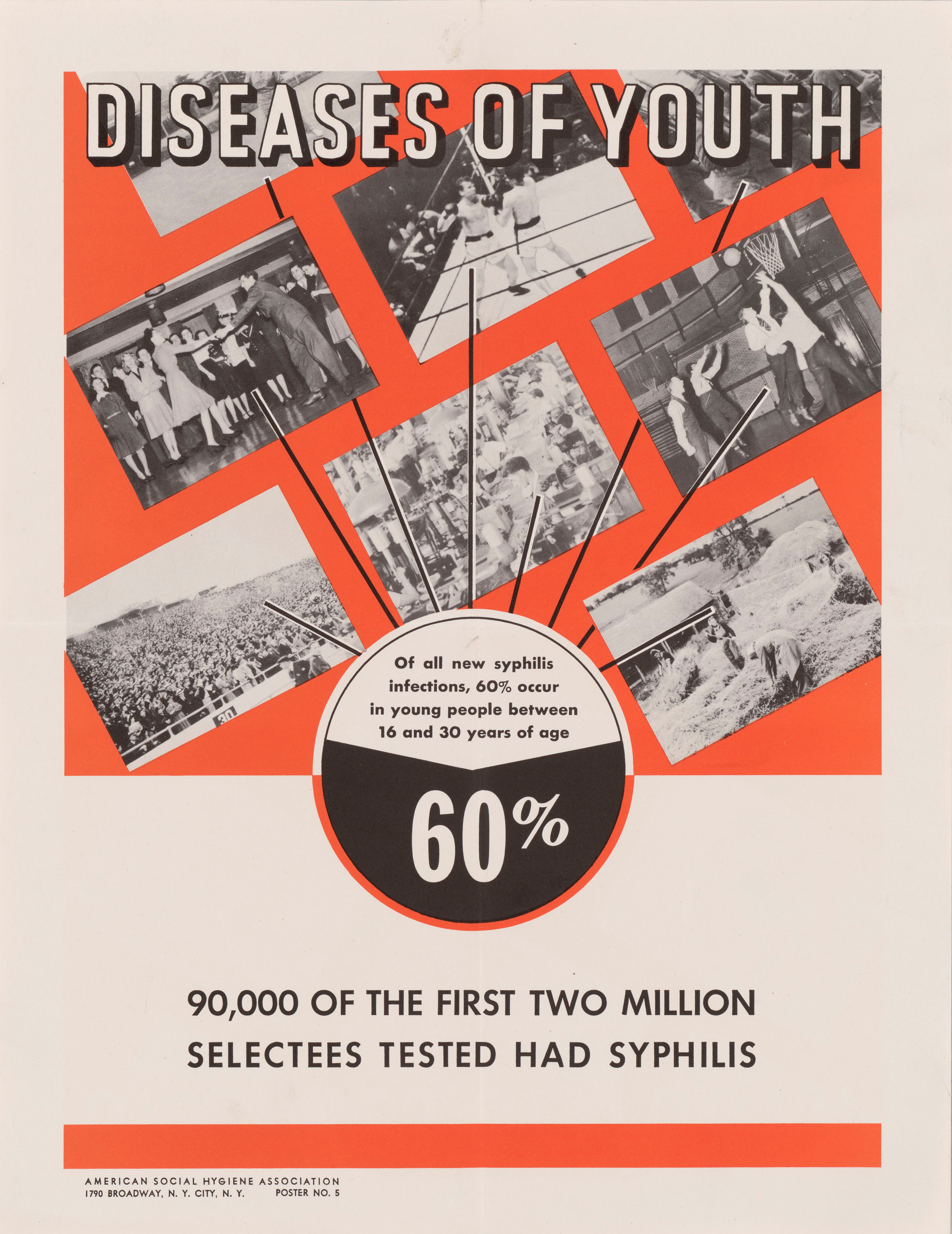 "Disease of Youth—90,000 of the First Two Million Selectees Tested Had Syphilis," n.d., Courtesy of NARA, 44-PA-639, NAID 514117.
In the eyes of military authorities, it was not only soldiers' interactions with prostitutes or "easy women" (in the phrase of the time) that caused problems. Army wives—sometimes just teenagers—followed their husbands to basic training or to domestic postings, often without sufficient money or any other form of support. Military officials complained that the young husbands were distracted by their presence; surrounding communities complained about the influx. Within the army, soldiers serving "for the duration" worried about the faithfulness of the girl they left behind, or about whether a marriage conceived in haste would survive prolonged absence and the horrors of war. In Britain, White US soldiers rioted at the sight of African American soldiers dating White British women. Japanese and German propaganda made much of US soldiers romancing women in Britain or in Australia. "Over-sexed, over-paid, and over here," the British and Australians said of US troops.
In both the United States and abroad, US servicemen got drunk and harassed women. Some raped women, whether in the United States, in Allied nations where they were stationed, or as they occupied the land of former enemies. But young men also sought female companionship. Some even fell in love. Military officials struggled to prevent "fraternization" with women in occupied Germany. Some 60,000 American servicemembers married women they'd met while serving overseas, some of them from former Axis nations. As the US government transported "war brides" to join their husbands following the war, many American women, left without male partners for the duration of the war, were outraged that US servicemen had married women from enemy nations.
In countless ways, from the most intimately personal to the public realm, World War II emphasized and expanded the divisions between American men and women. As the military demobilized and veterans returned home, Americans struggled to cope with the differences in men's and women's experiences of war. Those divisions would shape American culture over the subsequent decade.
Beth Bailey
University of Kansas
Further Reading
Beth Bailey and David Farber, The First Strange Place: The Alchemy of Race and Sex in World War II Hawaii (The Free Press, 1992).
Marilyn E. Hegarty, Victory Girls, Khaki-Wackies, and Patriotutes: The Regulation of Female Sexuality during World War II (New York University Press, 2008).
Samuel Hynes, Flights of Passage: Recollections of a World War II Aviator (Penguin Books, 1988).
Donna B. Knaff, Beyond Rosie the Riveter: Women of World War II in American Popular Graphic Art (University Press of Kansas, 2012).
Leisa D. Meyer, Creating G.I. Jane: Sexuality and Power in the Women's Army Corps during World War II (Columbia University Press, 1996).
Kara Dixon Vuic, The Girls Next Door: Bringing the Home Front to the Front Lines (Harvard University Press, 2019).
Emily Yellin, Our Mothers' War: American Women at Home and at the Front during World War II (The Free Press, 2004).
SUGGESTED CITATION: Bailey, Beth. "Women & Gender." The American Soldier in World War II. Edited by Edward J.K. Gitre. Virginia Tech, 2021. https://americansoldierww2.org/topics/women-and-gender. Accessed [insert date].
COVER IMAGE: "So He Can Fight!" Newsmap 2, no. 4 (17 May 1943). Army Orientation Course, Special Service Division, Army Service Forces, War Department. Courtesy of NARA, 26-NM-2-4b, NAID 66395132.